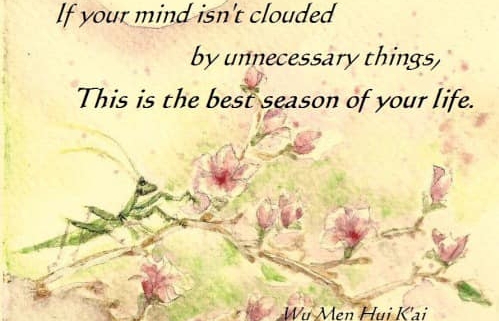 As summer sets, I've been reflecting on seasons. Just yesterday, my daily meditation teacher shared the reflection below by Wu Men Hui K'ai related to seasons.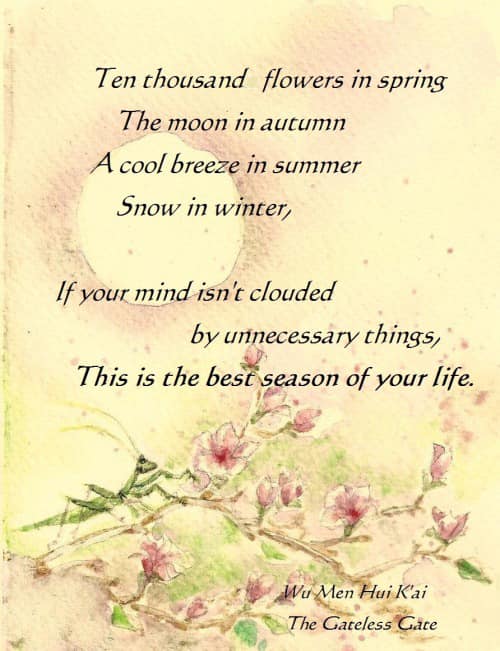 What season is your life in? Your career? Your learning? Your family life? Your volunteering? Your retirement? Are you in the new beginnings of spring whether actually in early stages of choosing or doing something or maybe planting seeds for the future? Perhaps you may be in the bloom of summer experiencing the fullness of something whether good or bad, soaking in what is like we soak up the sunshine. An autumn stage may symbolize harvest for your efforts, a sense of reward and completion after which may follow some letting go. Perhaps you are in a winter stage of dormancy, reflection, maybe darkness, wondering what might bloom again. These are natural seasons of life, of careers, of individual experiences.
This year I've been in mostly an autumn season of letting go, most recently passing on the torch of my neighborhood blockwatch that I created and facilitated for twenty years. Recently I received an insight message that I'm beginning a new chapter. Related to that I'm also in that winter phase of reflection. Retirement is also a bit on my mind, though I think it will be a gradual process that will include new springtime beginnings.
The end of summer also reminds me of the school season of new beginnings. After enjoying the summer, September is often the time to gear up and start new endeavors. September also hosts Labor Day, a symbolic end of summer and reminder of work. If you or someone you know has been thinking about new beginnings in education or work, I would be happy to help them explore a new season.
https://karenscareercoaching.com/wp-content/uploads/2023/08/Seasons-Poem-e1692700881205.jpg
423
499
Karen Litzinger
https://karenscareercoaching.com/wp-content/uploads/2021/09/Litinger-career-logo-2.png
Karen Litzinger
2023-08-22 06:43:21
2023-09-08 16:17:02
What Season Are You In?