After settling in at my hermitage retreat in Erie this weekend, I picked a book out of my pile that filled half of my suitcase. I decided to begin with The Art of Life since it was written by Joan Chittister, a Benedictine nun from this monastery.
When I opened it to the May chapter, my heart quickened when I saw the theme of the chapter: DREAMS. First, I thought, "What a great topic for a career blog." Then I asked, "Do I dream?"
I regularly ask my clients "What's your dream job?" If that's too hard, then "How would you like to spend your time if you won the lottery?" I go on to say that if you don't allow yourself to think about the ideal, give it space, then it's not likely to happen. Perhaps it can give a clue to a job direction or retirement idea. Or maybe it reminds about taking time for something enjoyable, including renewing an interest from the past.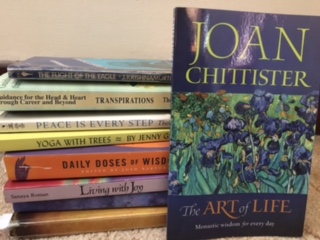 Here are a few excerpts from the book:
Back to my question: Do I dream? I asked it because I think I don't as a left-brain, busy type. I not only don't take the time, but my mind doesn't operate that way. For Myer-Briggs aficionado's, despite being a counselor, I score higher on Sensing (concrete) not Intuition (more imagination).
I actually have a prolific nighttime dream life, sometimes with guidance and premonitions. Because I am so left-brain, insight best comes through the sleeping subconscious. When I have taken time to daytime dream, I've made audio recordings of visualizations, and found years later I was living my dreams.
Knowing my nature, I need to remove myself from daily life to give space for the unfolding of intuition, messages and dreams. So here I am at my favorite retreat site signing off from this handwritten blog, to perhaps dream.
I invite you to take some time to dream too.
https://karenscareercoaching.com/wp-content/uploads/2023/05/Dreams-Monastery-close-up.jpg
240
320
Karen Litzinger
https://karenscareercoaching.com/wp-content/uploads/2021/09/Litinger-career-logo-2.png
Karen Litzinger
2023-05-18 07:46:25
2023-05-18 08:04:18
What are your dreams?