The recent death of Barbara Ehrenreich, author of the New York Times best seller Nickel and Dimed, reminded me of wanting to write about a neighbor who worked at the local Giant Eagle grocery store as a cashier.  I meant to share this years ago. It's a simple, yet complex story. It's a story of class and the American Dream.
I was buying some last-minute supplies for our neighborhood's annual block party celebrating National Night Out. In my welcoming manner, I invited and likely encouraged this neighbor that I didn't know so well who was bagging my groceries to come to the event. She replied that she couldn't make it since she was working her second job that evening.
Something about her comment jarred me. I felt sad that she needed to work two jobs. I'm figuring it was to make ends meet, but it could have been for another reason. I felt a bit embarrassed that I'm into this little neighborhood event and she had more pressing ways to spend her time. I felt a class difference that made me feel uncomfortable. Right, and she was bagging my groceries! Being able to earn a living working one job afforded me the privilege to organize and attend a community event.
I had a flashback to Barbara Ehrenreich's Nickel and Dimed: On (Not) Getting By in America. In 1998 she went "undercover" to experience the life of working minimum wage jobs, fully immersed living off of that income, I believe for a year. With millions living in poverty, she was inspired to see if the promise of welfare reform was real, that any job can enable a better life.  It was clear that in order to have a roof over her head and food on the table, the $6.00 minimum wage required having two jobs. It is a compelling, classic work that I think is still relevant today.  How interesting that she died three days before Labor Day.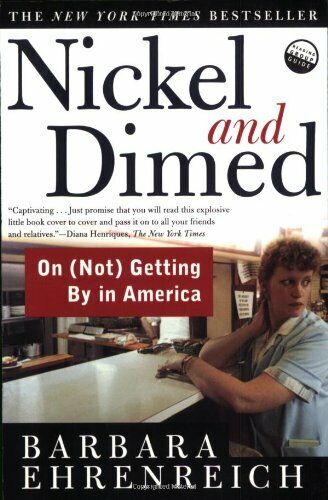 Even though wages are going up, partly thanks to the pandemic, they are not keeping pace with inflation. Working two jobs often doesn't afford the privilege of community activities, school involvement, and children's extracurricular activities. Wouldn't we all be better off if this were more possible?
People are sometimes needing to be in two jobs to make ends meet through no fault of their own. Reasons might be parents couldn't afford post-high school education, divorce, unexpected health costs, and so much more. Personally I think people who work two jobs are most likely hard workers.
It's hard for me to write this article about class and not mention race, partially because I am just finishing the book Waking Up White and Finding the Story of Race, by Debby Irving. I want everyone to read this book, oops I mean white people! Email me, and I will buy you a copy! It's had that much impact on me.  This topic may be another article, but I wanted to mention it. No, my grocery store neighbor was not a person of color.  Yes, I believe there are so many more unseen and historic barriers to the American Dream for people of color from our 400+ year history of racism.
https://karenscareercoaching.com/wp-content/uploads/2022/09/Nickel-and-Dimed-banner.jpg
242
328
Karen Litzinger
https://karenscareercoaching.com/wp-content/uploads/2021/09/Litinger-career-logo-2.png
Karen Litzinger
2022-09-21 18:44:03
2022-09-21 21:20:36
Making a Living – A Personal Story of Class